TOP
Parim hind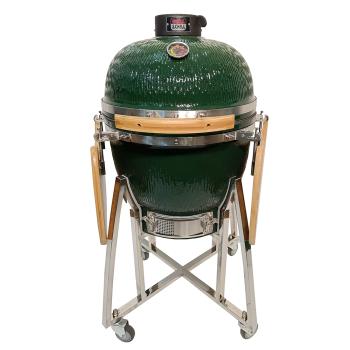 Zoom
Kamado Kiwi Classic 21 "with stainless frame. Free home delivery within Estonia.
Price:
695,00 €
Kuumakse alates:
50,43 €
Kamado Kiwi Classic 21 "with stainless frame. Green.
Kamado grill with a very good price-quality ratio! The grill frame is made of stainless steel. The grill has high-quality and durable fiberglass seals.
The grill has a Triple Cooking System (TCS), which consists of three floors - 1) pizza / flame barrier plate diam 32.4 cm, 2) baking tray diam 45 cm, 3) additional grate. They can all be used together or only some parts, as needed.
• The grill has a cast iron upper damper and a stainless steel lower damper with a unique pull-out ashtray, which makes the grill much easier to clean.
• Stainless steel with 2 springs.
• Thermometer on the cover.
• Wooden handle.
• Two folding wooden side shelves
• Stainless steel frame.
• The grill has 4 wheels, 2 of which have brakes.
• The diameter of the grill is 54 cm.
• Dimensions when assembled: 133x 66.5x 122cm.
• Working height from the ground 90cm.
• Weight: 90kg.
• Allows you to grill up to 10 people at a time.
Supplied in two boxes: a) housing and b) frame.
Kamado Cherry Classic 21 ". A very good value for money ripe cherry colored kamado grill!
SKU:
KS‐U21R ‐CSE ,
Delivery time:
2-5 päeva