Kamado heat-resistant seal 2.5m
• Length: 2.5m
• Width: 18mm
• Thickness: 5mm
• Withstands heat up to 300 ° C
• A 2.5 m long strip is supplied, one side of which is glued
• Before installing the seal, the old seal must be properly removed, the seal must be cut to size and then glued to the edge of the grill housing and the edge of the lid.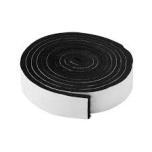 Kamado grill heat-resistant seal. Length 4m, width 24mm, thickness 5mm.
SKU:
Felt400 ,
Delivery time:
1-3 tp
19,90 €