Table and travel grill "Handy"
Portable stainless steel charcoal grill.
Can be used both unilaterally and bilaterally.
The dimensions of the grilling press are 2 X 34cm x 22cm.
Wooden handle.
Lockable lid.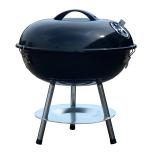 Table and travel grill "Globo" Ø14 "/ 36 cm
SKU:
22014A2 ,
Delivery time:
1-3 tp
17,90 €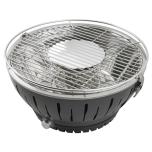 • Ventilation system for fast grilling, the grill is ready for use in just 5-10 minutes
• Size: height 19cm, Ø38cm
• Baking area: Ø35 cm
• Powder coated steel, stainless steel and plastic
• Easy to clean
• Combined heat reflector and grease trap
• Fan power: 4x AA (not included)
• The outer surface heats up only slightly, so the grill can be put off after a short time
SKU:
L86548 ,
Delivery time:
5-14 days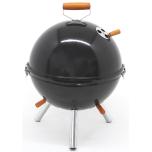 Travel and table grill

A small charcoal grill made of thick tin, convenient to take on a trip!
• Dimensions: Ø 31.5x 43.5cm
• Grill grate: Ø29cm


SKU:
L1040/1014 ,
Delivery time:
5- 14 days
9,90 €