Mustang alder smoke chips

• 3L
• Softer smoky flavor, suitable for seafood and vegetables
• Product code: 229812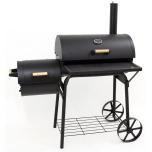 The chimney smoke oven-charcoal grill is suitable for both grilling and smoking. In addition, it decorates your garden.
The grill has two chambers. The larger one is for baking and use as a charcoal grill, the smaller one is for a smoke oven, but it is also possible to grill there. Strong metal, welded body, hinged lids.
SKU:
COU1 ,
Delivery time:
5-14 days