Mustang Kamado 21 "ceramic grill. Free home delivery.
Price:
775,00 €
Kuumakse alates:
53,04 €
MUSTANG KAMADO 22 "GRILL

Mustang Kamado is a durable and high-quality three-in-one charcoal grill, smoke device and ceramic oven, with a wide range of uses, from baking pizza at high temperatures to baking large pieces of meat at low temperatures.
The ceramic body perfectly accumulates heat, which can be regulated by the valves on the top and bottom of the grill.
• Dimensions: 133x 74x 116cm
• Baking area: diameter 49.5cm
• Durable ceramic charcoal grill
• Baking temperature range 82 ° C to 399 ° C
• Ceramic body and firebox
• Stainless steel hinges
• Cast iron ventilated cover on the lid
• Stainless steel ash valve
• Thermometer
• 49.5cm stainless double grill grate and cast iron grill plate
• Stainless frame with four wheels, two of which are lockable
• Bamboo drop-down side shelves
• Product code: 300608
With the ceramic kamado grill, you can brown, grill and smoke meat and other food, as well as make pizza. Meat remains juicier than when cooking with other types of grills. The Kamado grill is easier to maintain the temperature and at the same time uses less coal than a regular charcoal grill.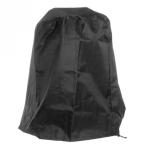 22 "KAMADO GRILL COVER
SKU:
L291123 ,
Delivery time:
5-14 days
27,90 €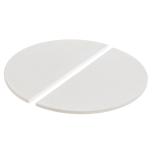 Mustang pizza stone in 2 parts for Kamado grill 22 "
• Dimensions: 38.0x 19.0cm
• Stone thickness: 11 mm
• Set of 2 semicircular stones
• Withstands heat up to + 500 ° C
SKU:
L300535 ,
Delivery time:
5- 14 days
24,90 €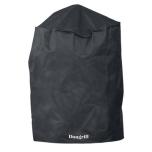 High quality Dangrill grill cover, suitable for large dome grills and also for 18 ", 21" and 22 "Mustang Kamados
• Cover for dome grill Ø 57cm in diameter, enough space for the handle
• Dimensions: Ø 72x 90cm
• Material: 0.45mm Oxford fabric (polyester fiber) + PVC
SKU:
L87086 ,
Delivery time:
5-14 days
46,80 €