Landmann Safety regulator set
• Pressure regulator 30mbar
• Hose clamps 2p
• With the pressure gauge showing pressure in the liquid gas bottles giving an indication of when it is time to refill the liquid gas bottles
• Item number: 1077NO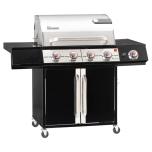 Avalon 4.1 - 4 burner gas barbecue
• Premium class barbecue with Power Thermal spreading System.
Special offer!
Rain cover art. 14326, gas regulator set art. 1077NO and rotisserie with motor art. 13050 included FREE!
Save €169.00 !
SKU:
L12799 ,
Delivery time:
5-14 days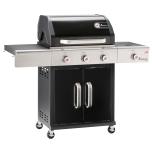 Landmann gas grill Triton PTS 3.1 Sapphire black
• 13.5 KW
• PTS - patented Power Termal Spreading System, the energy from burner is applied evenly and efficiently to the cooking grill.
SKU:
L12942 ,
Delivery time:
5-14 days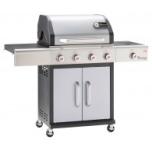 Landmann gas grill Triton PTS 4.1 stainless steel
• Power thermal spreading (PTS) system allows to distribute heat more evenly
• Stainless steel double wall lid , front panel and cabinet doors

Includes free enamelled cast iron plate (art. 13190) worth 45€
SKU:
L12966 ,
Delivery time:
5-14 days