Landmann gas reducer with manometer and hose
A unique 30mb gas reducer, which thanks to the manometer shows the level of gas in the cylinder and does not leave you unexpectedly empty when you have trouble grilling.
• Gas reducer with manometer and hose
• With quick release
• 2 mounting brackets
• The pressure gauge shows the gas level in the cylinder
• Product code: 1077NO
Suitable for all Landmann gas grills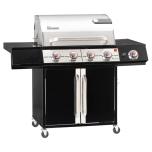 AVALON 4.1 - 4 burner gas grill 12799
PREMIUM CLASS GRILL WINTER DISCOUNT OFFER! DELIVERED 80% TOTAL.
SKU:
L12799 ,
Delivery time:
5-14 days