Landmann Pantera 2.0 gas grill with wheels frame. The best priced compact grill in its class!
Landmann Pantera 2.0 trolley

• Sturdy trolley for Pantera compact gas barbecue
• Wheels and handles for easy transport
• Quick and easy assembly/ disassembly
• Comfortable working height (90cm)
• Gas cylinder (5kg) can be stored below the barbecue
• Size: 105x 75x 56cm
• Weight: 5.3kg
• Item number: 12066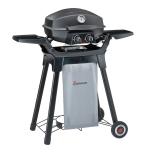 Landmann gas grill Pantera 2.0 with frame on wheels
A very versatile gas grill with two burners for a mobile person, which can be used as a regular gas grill or on the go, as required. It is possible to prepare food for 6 people at a time.
The side shelves can be easily assembled and placed in the car to take the grill with you.
The grill also comes with a wheeled frame, the bottom of which can be placed in a gas cylinder. The baking height of the grill placed on the frame is 90 cm.
For connection to a gas cylinder, a Landmann gas reducer with a manometer and a hose is suitable for art. 1077NO
The grill can also be used with a small 460gr gas cylinder if you buy additional reducer art. 3283.
SKU:
12065+12066 ,
Delivery time:
5- 14 days