Grilling fork with thermometer (2xAAA)
Westmark Grill fork with thermometer

• Dimensions: 385x43x38mm
• Built-in LED lighting
• Shows the temperature of the meat to be grilled, adjustable for different meats and ripeness levels. An acoustic signal indicates that the set maturity level has been reached.
• Stainless steel fork ends
• 2xAAA batteries included
• Product weight: 0.2 kg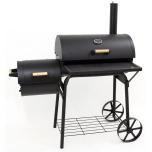 The chimney smoke oven-charcoal grill is suitable for both grilling and smoking. In addition, it decorates your garden.
The grill has two chambers. The larger one is for baking and use as a charcoal grill, the smaller one is for a smoke oven, but it is also possible to grill there. Strong metal, welded body, hinged lids.
SKU:
COU1 ,
Delivery time:
5-14 days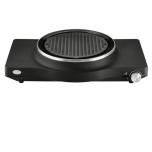 Gas grill RÖSLE Buddy G40 30bar
• Universal for both indoor and outdoor use
• Ideal for use on the balcony as it does not generate smoke
SKU:
L25017 ,
Delivery time:
5-14 days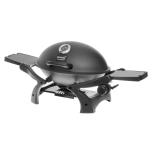 MUSTANG CARAVAN GAS GRILL
A compact hiking grill that can be used with both a large gas cylinder and small 460 g cylinders!
SKU:
L273378 ,
Delivery time:
5-14 days
190,00 €