Cast-iron grill-plate 1/2 for "Country"
• Product dimensions: 22.5x 45cm
• Griddle side special for meats i.e. pan frying
• Flat side with the surrounding margin is for many other dishes (Similar functionality to a hot stone)
• It fits exactly as replacment of the grid
• With fat flow-opening
• The plate is pre-heated and burned in oil
• Item number: 55622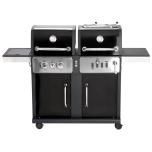 Dundee double hybrid grill "Allgrill Country"
• Weight: 70kg
• Product dimensions: 168.5x 70x 58cm
Comes with gas regulator (for bottle with valve on the side)+ grill cover+ grill-plate!
Delivered only assembled!
SKU:
L100622 ,
Delivery time:
5-14 days
799,00 €