BBQ Pan Ø32cm, 4cm edge
Price:
90,00 €
Kuumakse alates:
5,56 €
A unique cast aluminum grilling pan designed for use on a charcoal grill. The pan has a perforated bottom and a removable handle. The diameter of the pan is 32cm and the height of the edge is 4cm. The pan is a great helper if you are tired of the endless cleaning of your charcoal grill grill, in addition, the pan is easy to clean and is also well suited for serving grilled food. Suitable for all cooker types except induction cooker.

• Diameter: 32cm
• Edge height: 4cm
• The bottom thickness of the cast aluminum pan is 9-10 mm.
• Heat is evenly distributed throughout the pan, saving energy and time.
• The pan is coated with a Lotan® non-stick coating and is PFOA and Teflon free.
• The pan's cast aluminum housing is coated with 4 layers: 1) titanium oxide 2) anti-corrosion 3) ceramic and 4) non-stick Lotan® coating.
• The pan is easy to clean.
• Made in Germany.
• AMT Gastroguss panne is used by world-class chefs in international culinary competitions
• Recognized by the Association of German Chefs as the best pan in the world.
• Product code: SKU 432BBQ-Z10B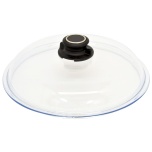 The best pan lid in the world
• Size Ø32cm
• Heat-resistant glass
• With the ventilation button
Suitable for both professional chefs and home-made gourmets who appreciate quality.
SKU:
LSKU 032-E-Z1L ,
Delivery time:
5-14 days
24,90 €