TOP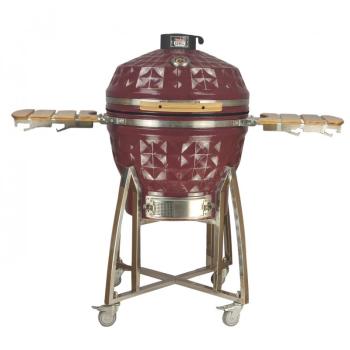 Zoom
Kamado Cherry Grand Ø24 "/ 61cm. Better than average equipment. Stainless steel frame, triple contents and exit ashtray. Grill cover art.606696 free shipping and home delivery within Estonia free of charge
Large and majestic cherry red ceramic grill on a stainless frame. Thanks to the stainless steel details, the grill withstands the Nordic humid climate well.
The set includes the Triple Cooking System (TCS), which consists of three floors:
1) pizza and flame barrier plate diam 38cm
2) baking tray diam 52.5 cm
3) an additional grate, which is placed on top of the baking grate
• The grill has a cast iron upper damper and a stainless steel lower damper with a unique pull-out ashtray, which makes the grill easy to clean.
• Thermometer on the cover.
• Stainless steel 3 spring cover hinges
• Wooden handle and folding side shelves with hanging hooks.
• The stainless steel frame is equipped with 4 wheels, two of which are lockable.
• The diameter of the grill is 24 "or 61 cm and the working height from the ground is 90 cm.
• Dimensions when assembled: 138x 82x 121cm.
• Weight: 108kg.
• Allows you to grill up to 14 people at a time.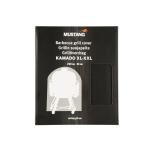 Kamado grill rain cover for XL / XXL size. Max diam 80-90cm
SKU:
606696 ,
Delivery time:
2-5 päeva
39,90 €