Landmann barbecue gloves

• 2 pcs
• Dimensions: 17x 36.5x 2cm
• Quality product!
• Nn. "blacksmith gloves" with which you can calmly deliver with a high heat grill and avoid burning your hands
• Product code: 13699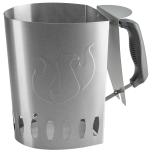 Landmann stainless charcoal firing lung
• Extra large ~ 5.4l.
• Recommended for anyone who cannot tolerate the smell of charcoal flammable liquids!
SKU:
L15200 ,
Delivery time:
5-14 days
26,99 €